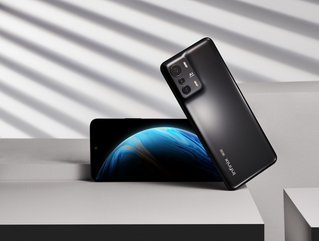 Infinix's ZERO 5G smartphone features a 6nm 5G processor integrated with MediaTek's Dimensity 900 processor and a uni-curve design
Infinix today launched its first premier 5G smartphone, ZERO 5G, which aims to deliver the benefits of 5G – such as higher speeds, seamless connection, faster downloads and greater coverage. The company said in a statement that the smartphone is integrated with a 6nm MediaTek's Dimensity 900 master processor for high-performance gaming, a uni-curve design, a 48MP AI Triple camera with 30x ultra-zoom for crisp close-ups of distant objects, a 6.78'' FHD+ ultra-smooth display with 120Hz Refresh Rate and 240Hz Touch Sample Rate for lower latency and immediate responsiveness and a 5000mAh battery with 33W quick charge technology.
"Infinix is setting a strong course in today's fast-growing marketplace and providing innovative, yet high-performance 5G technology that is more attainable to users through the new ZERO 5G smartphone," stated Charles Ding, Deputy Product Director of Infinix Mobility. "Our innovation gives users a smartphone with better performance from a slimmer and stylish design that includes every key technology feature they are looking for in a 5G device that offers the most bang for its buck within its price range."
Infinix ZER0 5G smartphone aims to bring a full-speed 5G network experience
Infinix ZERO 5G is equipped with a powerful 6nm MediaTek Dimensity 900 5G chipset bringing a full-domain and full-speed 5G network experience. Its Clever 5G Mode automatically switches between link4G and 5G according to the user's bandwidth, which can significantly improve download and gaming speed and reduce power consumption.
MediaTek's Dimensity 900 5G chipset is built on a 6nm high-performance manufacturing node and integrated with a 5G New Radio (NR) sub-6GHz modem with carrier aggregation. The chipset is equipped with an octa-core central processing unit (CPU) consisting of two Arm Cortex-A78 processors with a clock speed of up to 2.4GHz and six Arm Cortex-A55 cores operating at up to 2GHz that deliver exceptional performance for snappier app responses, faster frames per second (FPS) for gaming and better connected experiences. With the chipset's Arm Mali-G68 MC4 graphics processing unit (GPU) and an independent artificial intelligence (AI) processing unit (APU), power-efficiency is optimised to extend battery life even further for mobile gamers.
The ZERO 5G smartphone provides even faster and more reliable connectivity for gamers with Wi-Fi 6 and 2x2 MIMO technology that offers about 1.2Gbps connectivity speeds. Infinix takes the ZERO 5G's connectivity solutions even further with Dual 5G SIM technology, which enables the smartphone to connect to two separate 5G SIMs, intelligently switching to the fastest network and enabling seamless internet access from both connections as needed, powering users day's like never before on an Infinix device.