How Ericsson's 5G is helping X Shore execute sustainability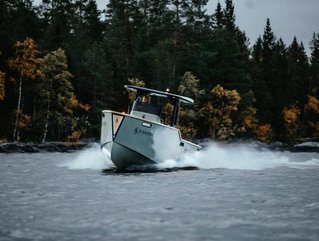 X Shore is setting up a new factory in Sweden, with the ambition of having the most efficient and sustainable boat factory in the world
In a move to create more efficient and flexible production processes, X Shore, a Swedish disrupter in the electric boat industry, has chosen to enhance the capabilities of its new factory with a private 5G network supplied by Tele2, using Ericsson's technology.
The private 5G network is one of the first commercial installations in Sweden and will also support the company's sustainability agenda.
The new factory will be in Nyköping, Sweden and the technology, along with end-to-end solutions will help to boost factory productivity, reduce waste, and limit the amount of cabling, which ultimately translates into more value for customers.
"A private mobile 5G network provides completely new opportunities to digitalise, automate, and streamline operations for all types of industries. X Shore is now at the forefront of how a manufacturing company can use technology in a smart, sustainable, and efficient way," says Stefan Trampus, Executive Vice President B2B at Tele2.
Creating a sustainable boat factory with 5G
The Ericsson Private 5G network used in this case builds upon Ericsson's 4G/5G radio portfolio and dual-mode core technology that is used indoors and outdoors, enabling Enterprises to take the next step in flexible modular manufacturing and logistics.
The private 5G network can also be tailored to specific business cases and builds the foundation needed to overlay other ground-breaking technologies, such as Artificial Intelligence (AI), Augmented reality (AR), Virtual Reality (VR) and Industrial Internet of Things (IIoT).
Jenny Lindqvist, Head of Northern and Central Europe at Ericsson, says: "This is a great example of how our 5G solutions provide sustainable and commercial benefits to our customers. We are proud be partnering with Tele2, to provide our Private 5G network solution. This is enabling X Shore to add flexibility and enhanced control over the production processes while lowering costs and reducing the climate impact. We will continue to transform the manufacturing industry, making it more efficient and sustainable."
The Swedish climate-tech and electric boat company X Shore was founded in 2016 in Stockholm. The company's boats use no fossil fuels and have minimal impact on marine wildlife. It has been awarded a number of prizes for the design of the model Eelex 8000, and in 2022 the company was nominated for the European Powerboat of the Year and received the jury's special mention.