The future of 5G in zero G(ravity)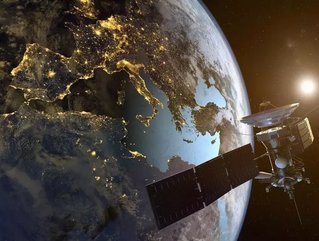 Space companies are investing huge amounts of money into infrastructure to deliver 5G satellite internet...
The global 5G rollout is spreading across the face of the Earth faster than a spilled cup of coffee across your favourite set of sheets. Today, there are , covering around 5% of the world's population. By 2025, 5G has the potential to cover up to 65% of the world's population, wrapping most of us in a warm, fuzzy blanket of low-latency streaming and blisteringly fast download speeds. 
However, that still leaves 45% of the global population (around 4bn people) without access to high speed internet. As the global pandemic and an increasingly digitalised business landscape continue to increase the demand for connectivity, the challenge of bringing high speed internet to underserved areas is only becoming more apparent. 
However, 5G isn't just spreading across the Earth's surface. Increasingly, communications companies are investing in the crusade to bring 5G to the final frontier: (please click this link, it's the best video on the whole internet, I promise). 
For years, the satellite communications industry has existed in a somewhat , content to handle secure communications for the military - not to mention the occasional pee-swigging outdoor rambler. 
In many parts of the world, the demand for 5G is outstripping the ability to build infrastructure to meet that demand. In particular, sparsely populated areas, or those in developing nations without established fiber infrastructure, are being left in the lurch. 
With the advent of 5G, however, this all looks set to change. 
A new, highly privatised space race has begun, as companies like SpaceX, Amazon and OneWeb are scrambling to launch their own networks of low Earth orbit (LEO) satellites to support next generation communications. 
plans to throw up a network to provide underserved customers with low-latency broadband services. 
wants to launch 30,000 small LEO satellites as part of its network to provide global satellite internet coverage. Currently, there are a mere 300 in orbit (around 1% of the intended payload for you eagle-eyed math aficionados), and they're already for . 
London-based space communications firm is trying something a little more modest, launching a few dozen small satellites at a time, with plans to begin offering corporate and government services in 2021. 
Given the fact that 5G coverage has so far been mostly limited to population hubs - mostly rich ones with a developed tech economy - the ability to deliver high speed broadband to the less well-served parts of the world could be an important step in delivering a more connected world. 
According to a by Research and Markets, "The 5G satellite communication market is expected to witness a high growth, owing to the increase in the number of communication satellite constellations for the support of 5G systems across the globe. Furthermore, the emergence of 5G satellite communication services for IoT is expected to gradually increase the demand for 5G satellite communication across the world.
In addition, the increasing demand for satellites for different business verticals and the need to resolve the bandwidth problem in the current network are some of the major factors expected to create lucrative opportunities for the global 5G satellite communication market in the coming 10 years."