Everything we know so far about AWS Private 5G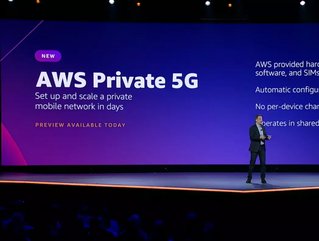 Amazon Web Services (AWS) recently launched its new 'AWS Private 5G'. We take a look at it in closer detail
At AWS re: Invent yesterday, Amazon Web Services announced the launch of AWS Private 5G. Talking about the network itself, David Brown, Vice President, EC2 at AW, said: "Many of our customers want to leverage the power of 5G to establish their own private networks on-premises, but they tell us that the current approaches make it time-consuming, difficult, and expensive to set up and deploy private networks. 
"With AWS Private 5G, we're extending hybrid infrastructure to customers' 5G networks to make it simple, quick, and inexpensive to set up a private 5G network. Customers can start small and scale on-demand, pay as they go, and monitor and manage their network from the AWS console," he added. We take a look at exactly what AWS Private 5G is and how it will affect the future of private networks.
What exactly is AWS Private 5G and what do we know about it?
AWS Private 5G is a fully-managed private wireless solution based on 4G LTE/5G technology. Its aim is to help enterprises set up and scale private 5G mobile networks in their facilities in a shorter period of time, usually days instead of months.
With just a few clicks in the AWS console, customers can specify where they want to build a mobile network and the network capacity needed for their devices. AWS then delivers and maintains the small cell radio units, servers, 5G core, and radio access network (RAN) software, and subscriber identity modules (SIM cards) required to set up a private 5G network and connect devices.
The network also automates the setup and deployment of the network and scales capacity on-demand to support additional devices and increased network traffic. There are no upfront fees or per-device costs with AWS Private 5G, and customers pay only for the network capacity and throughput they request.
In addition, the latest offering from the cloud services provider adopts AWS' pay-as-you-go pricing, meaning a monthly fee is charged based on the number of radio units you have and the maximum configured throughput for the network. 
Both management and operation of AWS Private 5G are achieved through the AWS Console. Access control for the SIM-enabled devices is managed via AWS Identity and Access Management (IAM) service, while monitoring is tied into AWS CloudWatch. Users can set traffic priorities on device groups on AWS Private 5G, allowing for quality of service (QoS) controls.
AWS Private 5G has been described as a bold move for the company and one which will have a significant impact on the telcos market and shine a further spotlight on the benefits and uses of private 5G and 4G. 
Image: AWS