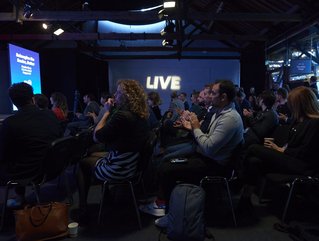 Cloud & 5G LIVE takes place from 23rd to 24th June at London's famous Tobacco Dock and will cover core themes such as telecommunications and women in tech
A hybrid event that's part of Tech LIVE, Cloud & 5G LIVE kicks off on 23rd June at the Tobacco Dock, London, and ends 24th June 2022. Hosted by BizClik Media Group, the two-day event ‒ sponsored by Salesforce, Umlaut, Virtus Data Centres, and the Norwegian Data Center Industry ‒ will feature live roundtable sessions featuring insightful Q&As, networking opportunities, and influential keynote speakers from companies such as Three, Compass Datacenters, Yondr, and T-Mobile. As well as coming to you live and in-person, the event will also be broadcast live via Brella, a fully interactive virtual platform.
Speakers will deliver presentations on core themes including women in technology, telecommunications, and enterprise technology, as well as cloud and 5G. At the end of each session, audiences will have the opportunity to ask any questions they may have relating to the topics discussed.
Let's take a look at the event agenda in more detail.
Cloud & 5G LIVE Agenda
Day one, 23rd June, commences with a welcome presentation, followed shortly afterwards by the first of the keynote presentations, in which Louise Bunting discusses how businesses in the cloud industry can use automation to transform operational processes.
After this, presentations from Beatriz Arias of Nokia and Mark Cooper of Atlas Edge will provide further insights into both industries and will be centred around core themes. The afternoon will then consist of further presentations from companies such as Orange and AT&T, which will take place on the Cloud and 5G stage ‒ as well as virtually on the Brella platform ‒ and take a closer look into the 5G industry.
The second day will see a wide variety of presentations and roundtable discussions in action. These include a 'Fireside Chat', where panelists will discuss Open Radio Access Networks (OpenRAN), a panel discussion on digital infrastructure, and a presentation from Colin, Chairman of the Board at 6G-IA, about implementation of 6G in Europe.
In between each session, there will be an opportunity to network with other attendees, where you can build high-level relationships and gain insider knowledge from top industry experts.
Confirmed speakers so far
The list of speakers for Cloud & 5G LIVE continues to grow each day ‒ take a look at who is scheduled so far:
Tony Grayson, General Manager, Compass Quantum at Compass Datacenters
Robert Franks, Managing Director at West Midlands 5G
Dr. Colin Willcock, Chairman of the Board at 6G-IA
Belinda Finch, Chief Information Officer at Three
Ceren Clulow, Digital Connectivity Manager, Nottinghamshire County Council
Leah Hidden, Global DEI Program Manager, Yondr
Edwige Robinson, SVP, Central Region, Network Engineering, Operations & Transformation at T-Mobile
Andrew McGrath, Group Chief Commercial Officer at BAI Communications
Vicky Nisbet, Industry Leader - Comms, Media & Tech at Salesforce
Samer Geissah, Director, Technology, Strategy, and Architecture, 5G, MEC, and IoT at Telus
Commenting on the event, Stuart Irving, Managing Director of Telecommunications and Data Centres at BizClik Media Group, said: "At MWC Barcelona back in March, it was truly fantastic to see the masses return to in-person industry events once more. So roll on June 23rd-24th, where TECH LIVE LONDON brings The Global 5G and Cloud Conference to the people and hears from some of the most innovative, exciting and industry-leading 5G and Cloud executives. See you there!"
If you would like to attend, whether that be in-person or virtually, you can purchase your tickets here ‒ see you there!