DISH's first phone is a budget 5G handset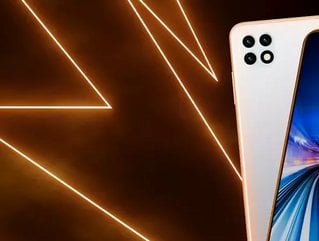 In an effort to attract customers to its new network, Dish's Boost Mobile is launching an exclusive budget 5G smartphone.
It's been a rough road so far for America's 4th mobile network carrier. Dish entered the sector last year, acquiring Boost Mobile as part of the T-Mobile and Sprint merger, later buying Republic Wireless for its 5G network. However, a soured relationship with its old network host, T-Mobile - which prompted Dish to shell out $5 billion to AT&T to host its virtual network - and some blatant attempts by T-Mobile to siphon back the Boost Mobile subscribers it gave up in the merger, has put Dish on the back foot. 
Now, as Dish's network finds its footing as the underdog in a highly competitive market, the company has made its first big attempt to establish its presence as a viable alternative to Verizon, AT&T, and T-Mobile. How? With an own-brand budget phone. 
Announced on Thursday, September 30, the new Boost Celero5G is being billed as an affordable 5G handset - a juicy reward for prepaid customers who use their Boost network. According to Dish, the Celero5G "fills a void in the mobile device market, providing an affordable 5G option that's packed with the features customers want." 
Is the Celero5G any good? 
Short answer: we don't know yet, but it looks promising. We don't know a whole lot about the Celero5G yet, but Dish aren't the first carrier to offer an own-brand phone. The T-Mobile Revvl and AT&T Radiant have been on the market for a while now, and both of them are cheaper than the Celero5G. But has Dish packed enough into the handset to beat out its direct competition? 
The Celero5G sports a remarkably sleek look, with iPhone-style metallic borders and a 6.52-inch screen. It has 4GB of RAM (not great; 8GB is very much becoming the standard, even at the budget end of the market) and 64GB of hard drive space (also not great). 
The device reportedly has the same Qualcomm Snapdragon 690 5G chip as the budget OnePlus Nord N10 5G, another 5G phone you can buy for under $300. 
Dish hasn't revealed which company it contracted to make the phone. However, some creative searching took me to an entry (since deleted) for a "Wingtech Celero 5G" phone case. Wingtech is the Chinese OEM that also helped T-Mobile build its Revvl 5G devices. 
It's available for preorder to prepaid Boost customers and costs $279 as part of a 12 month promotional data package that gives customers "unlimited" (after 35GB, your connection is downgraded to 2G, so better make sure you don't use it all up halfway through the year) data, voice minutes, and texts. Dish is also throwing in a "specially designed" case.
The basic T-Mobile Revvl comes with a nearly identical spec sheet: 4GB of RAM, 64GB of storage, 2TB expandable memory with an SD card, a bigger battery, and a slightly bigger 6.82-inch display. And it only costs $199. 
The AT&T Radiant Max goes even further down the budget route with a device you can purchase outright for $179.99 (you can get it for $89.99 as part of your phone plan, as long as you're paying at least $50 per month on your phone bill - god, being a consumer in America sounds like the worst), and gives you a bigger screen, slightly bigger battery, and the same hard drive storage. AT&T provides no information about their RAM, which means it could be as bad as 2GB - the 16GB hard drive version you can buy for $64.99 at Walmart only has 2GB of RAM. 
So, on balance, these phones are all pretty terrible handsets that can get you 5G coverage as their major selling point. The Celero5G admittedly does have a sleeker, more premium look than the other two, and the "unlimited" (can't stress those air quotes enough - 2.9GB of data per month before you get throttled back down to 2002 isn't "plenty to use comfortably" The Verge, in what looked suspiciously like a sponsored post) data package really isn't that bad. 
Is the Celero5G the Silver Bullet Dish has been looking for? 
This is still undeniably a weird move for Dish. Carriers (especially the big three) in the US like to attract customers with a never-ending barrage of "free" or discounted premium devices from top brands. An own-brand phone is something you get because you dropped your iPhone 6 in the toilet at a gas station and it's the second-cheapest model on the shelf that will let you get on with your life. 
Still, if Dish is going to compete against its bigger rivals and their deeper pockets, it might be right to switch things up a bit. The budget and mid-range markets have exhibited the strongest consistent revenues throughout the COVID-19 pandemic, and the US market is apparently hungry for more.
"Our goal at Boost is to empower our customers with what they need, when they need it," said Stephen Stokols, head of Boost Mobile. "Subscribers have told us loud and clear: they want speed, cool features, and a fair price. The Celero5G is built to make 5G affordable."