AT&T partners with U.S. Military for maritime 5G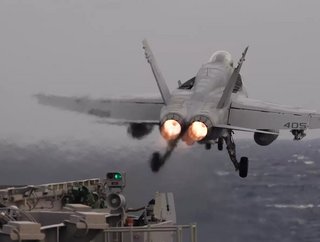 AT&T is collaborating with the U.S. Military to develop maritime 5G network services and edge compute experiments
Telecommunications company AT&T has announced it has entered a partnership with the United States Military to provide maritime 5G and edge compute experiments, which include connecting unmanned robots, aerial drones, and autonomous underwater vehicles. 
The three-year agreement, known as the Collaborative Research and Development Agreement (CRADA) which involves the Naval Postgraduate School (NPS), aims to support several 5G-focused experiments at facilities owned by the NPS. The NPS is U.S. Navy's university for applied research.
Talking about 5G and edge computing, Mike Galbraith, Department of the Navy Chief Digital & Innovation Officer, said: "5G and multi-access edge computing capabilities are increasingly important in our personal lives and even more important to our warfighters.
"The collaboration between the Naval Postgraduate School and AT&T will help us explore better, faster means of collecting, disseminating, and analysing data at the tactical edge, which is vital to maintaining and exploiting battlespace awareness."
Where will AT&T's research be conducted?
In a statement, AT&T said: "As part of the CRADA, one initiative is the Naval Postgraduate School's Sea Land Air Military Research ("SLAMR") programme. SLAMR conducts activity at Camp Roberts in South Monterey County and, to a lesser extent, on the NPS main campus and at SLAMR's beach lab north of the main campus in Monterey, California."
According to the telecom, the focus of the programme is to explore the development of 5G and edge computing-powered sea applications that connect crewed and non-crewed vessels and sensors. Experiments will be conducted within the SLAMR's multi-domain laboratory. The program is also focused on providing all-domain maritime solutions for a broad array of defense, industry, and commercial applications.
When will the AT&T 5G and edge computing capabilities be operational at the SLAMR site? 
"We expect the first 5G and MEC nodes to be installed at the SLAMR site and available for use during the first quarter of the fiscal year 2022," AT&T said in a statement. Lance Spencer, Client Executive Vice President, Defense, AT&T Public Sector, and FirstNet, said: "This is an important programme to the future of our national security and defense. We're honored to explore and innovate new AT&T 5G and multi-access edge computing-based maritime applications with the Naval Postgraduate School."
Retired Vice Admiral Ann E. Rondeau, President, Naval Postgraduate School, said: "Innovation occurs at the seams and intersections of practice and expertise and NPS provides an innovation hub where this applied 5G research can occur. AT&T's experience with the existing 5G infrastructure on the Monterey Peninsula will facilitate our collaboration on the next generation of mobile networks. By working alongside experts from our faculty and industry partners, we can apply the operational experience of our graduate students to accelerate and enhance research into 5G-related naval maritime capabilities."