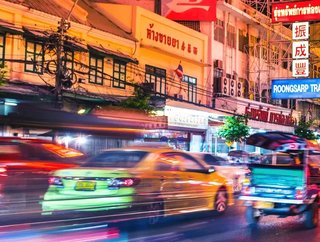 AIS and vivo's new network trial in Bangkok is the Chinese smartphone manufacturer's first test of SA 5G infrastructure outside of mainland China. 
In collaboration with Thai mobile network carrier AIS, Chinese smartphone manufacturer vivo has conducted its first trial of a standalone (SA) 5G network outside of mainland China. 
One of vivo's new V21 5G smartphones was used as the basis of a series of tests carried out in a densely populated area of Bangkok. AIS and vivo said in a statement to the press that the trial "achieved stellar results by attaining an impressive high speed of connectivity." 
"vivo is honored to be among the first mobile device providers that is participating in the commercialization of Thailand's 5G SA networks with AIS," commented vivo's 5G Standards Expert, Tamrakar Rakesh. 
The Thai market has surged ahead in terms of SA 5G adoption in the past year, and its SA 5G infrastructure currently outpaces other leading 5G markets, including the UK, South Korea, and parts of the Middle East. AIS has already begin deploying its own SA 5G hotspots throughout the country. 
SA 5G adoption is gaining traction across multiple markets - with South Korean telecom operator KT recently launching its own commercial 5G network in collaboration with Samsung. An SA 5G network operates on an independent 5G network core, unlike 5G Non-Standalone (5G NSA), which is overlaid on an existing 4G network core. Most of the early adopters of 5G essentially piggybacked their 5G capabilities on the back of their existing 4G networks in order to accelerate their go to market speeds, and the style of architecture remains prevalent in Japan and South Korea. 
The US, UK, and Thailand have all been more heavily committed to SA 5G from the get go, although this hasn't necessarily translated into superior network quality as both NSA and SA 5G networks have ironed out their various kinks and addressed teething problems over the past year. 
Thailand (along with the Philippines) already experienced one of the largest improvements in customer experience between its 4G and 5G networks, with a report by Opensignal released in February finding that the country saw 5G download speeds that were 13.4 times faster, on average, than the 4G download speeds available in the country. 
Following the release of the report, Opensignal analysis team lead Ian Fogg notes that "In 2021, more operators hope to launch 5G on additional frequency bands, more operators intend to add extremely fast mmWave-based 5G, and more operators seek to launch newer versions of the 5G standard and offer users a fully 5G experience by shifting from non-standalone access (NSA) to standalone (SA) 5G."